Visits With Santa
The Mount Joy Chamber of Commerce will be hosting their 7th Annual Visits with Santa on Saturday, December 10 from 10am-12pm at Milanof-Schock Library, 1184 Anderson Ferry Road, Mount Joy.
We are thankful to the Library for helping us to host this annual event!! Santa will be excitedly waiting to hear what each child would like for Christmas!
Thanks to our Diamond Member and Major Sponsor Lanco Federal Credit Union every child will receive a holiday themed coloring page, crayons and a cookie. Lanco Federal Credit Union will once again be gifting each family with a FREE 5 x 7 color photo.
The Chamber will be selling their 2022 ornaments which feature the Good Ship Mountjoy on them at $12 each. A small amount of 2021 ornaments will also be available at $10 each or buy them both for $20.
There will be Christmas books, cookies and gingerbread raffle tickets for sale.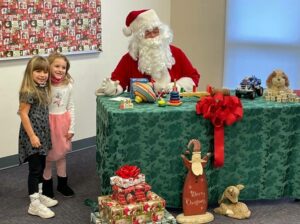 **Pictured above with Santa are twins left Brynlee and right is Reese Sattazahn